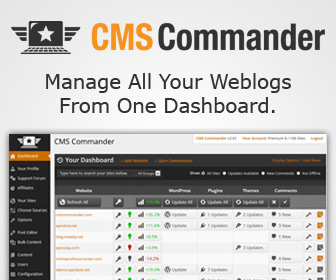 CMS Commander is a remote management software for WordPress, Drupal, Joomla and phpBB websites.Add all of your websites to your CMS Commander account, you will be able to control them all via a secure SSL connection. Save lots of time by bulk managing your all of your site and blogs using CMS
Sign up for your free CMS Commander account now!
CMS Commanders features:
Sign up for your free CMS Commander account now!
 CMS Commander
Take full command of your site network! Have all your sites at your fingertips, keep your plugins updated in a matter of minutes, schedule automatic backups, write better articles, clone whole websites or insert related affiliate ads – CMS Commander makes all this and more possible. No matter if you own one, ten or hundreds of sites.
Welcome to the New and Better Way of Managing Multiple Websites CMS Commander
With CMS Commander you can manage and control all your websites from a single control panel, no matter what content management system (CMS) they are built with. If you own or manage multiple websites you know how tedious it can be to log into all their admin panel every day just to do some repetitive or mundane tasks – with CMS Commander that is not necessary: Do said tasks from within your CMS Commander account and apply them to all your sites at the same time with a few clicks!
Besides allowing you to remotely manage all your WordPress, Drupal, Joomla and phpBB websites from one place CMS Commander also includes powerful affiliate content generation capabilities and autoposting features. Direct targeted content insertion into the articles you write, bulk article posting, PLR and CSV import and more can assist you in producing fresh content for your sites and help you monetize them better than ever before.
 CMS Commander